---
ISO 9001:2015 CERTIFIED PRESS RELEASE
---
For Immediate Release
Denver, Colorado – June 4, 2018
Universal Plastics, Inc. is ISO 9001:2015 Certified Effective April 20, 2018.
Universal Plastics, Inc. is pleased to announce the attainment of our ISO 9001:2015 certification. This certification ensures that Universal Plastics operates a quality management system which complies with the requirements of ISO 9001:2015 for the manufacturing, design and sales of thermoplastic extrusions for OEM.
ISO 9001 is the internationally recognized standard for establishing a quality management system. It is based on quality management principles that assure a customer-focused approach to design, development, production, sales and servicing of customer orders. ISO 9001:2015 is the newest set of standardized requirements for quality management systems. It's customer focus is recognized as enhancing satisfaction in the supplier-customer relationship.
To earn ISO 9001:2015 certification, the quality management system was audited by ANAB accredited auditors. A multi-day audit covered all aspects of Universal Plastic's customer relationships. After certification, the systems will continue to be internally and externally audited to assure customers a mutually beneficial relationship consistent with the Quality Policy.
Universal Plastics, Inc., a division of Geotech Environmental Equipment, is a custom plastic extrusion and injection molding manufacturer serving US businesses for over 30 years.
For more information contact:
Universal Plastics, Inc.
Andrew Lindemann, Global Technical Marketing Leader
andrewl@geotechenv.com
303.322.0297
###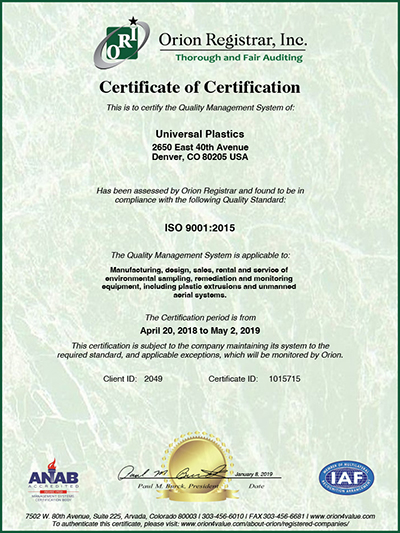 Universal Plastics is in compliance with ISO 9001:2015.